SEEN YOUR VIDEO:
We were lucky recently to have our song "Point Pleasant" selected as a part of most esteemed New Jersey music journalist Jay Lustig's "350 Jersey Songs" series. Big thanks to NJArts.net! Check out the video below...
(Thanks to Deborah Davis for the most excellent video editing!)
ROCK THE JUKE:
Sit and spin with The Thousand Pities' Jukebox on Soundcloud:
FOR THE RECORD:
Matt Davis takes a stroll down his memory lane of LPs and 45s. See how KISS, bubblegum music, WWII battlefield recordings, and LONDON CALLING can get mashed up in one soul's ears, heart, and mind... Read the article...
ABOUT BELIEVE IN SOUND: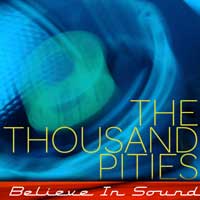 "One of the best local releases of 2011 so far? Heck, forget about 'local.'" - Tris McCall, The Star-Ledger
"This seasoned bunch of Garden State rockers show everyone how it's supposed to be done with this seriously bang-up album... [S]hake and stir everything up with a joy, skill, and go-for-it gusto that gets right down to rousing brass tacks with a winning dearth of pretense and teeming surplus of wholehearted straightforwardness." - Joe Wawrzyniak, JerseyBeat.com

Stuff to explore:




BELIEVE IN SOUND is being added to more online retailers every day. Check our store to see if your favorite site is carrying it!

These are a few of our favorite things. Please explore!